About Us
Top Chef is a Chinese takeaway in Highcliffe. Why don't you try our King Prawns with Mange Tout or Deep Fried Chicken in Sweet & Chilli Sauce?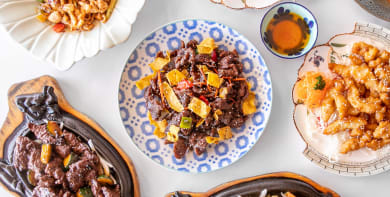 Reviews
194 reviews
Leah
"Second time ordered. Lovely! Will order again.."
23/10/2020
paula
"Nice and tasty food ."
08/10/2020
Tracey
"You did text and say it would be late"
07/10/2020
philip
"Food excellent delivered on time happy delivery driver"
02/10/2020
Menu
Meal A For 2 Persons
Mini spring roll
Chicken in Hong Kong style
Beef in oyster sauce
Young chow fried rice
Prawn crackers
£18.00
Meal B For 2 Persons
Mini spring roll
Spare ribs
Beef in black bean chilli sauce
Kung po chicken
Young chow fried rice
Prawn crackers
£24.00
Meal C For 2 Persons
Crispy seaweed & prawn toast
Aromatic duck
Chicken in black bean chilli sauce
Beef in spring onions sauce
Prawn in Hong Kong style
Young chow fried rice
Prawn crackers
£34.00
Meal A For 3 Persons
Mini spring roll
Chicken in Hong Kong style
Beef in oyster sauce
Young chow fried rice
Prawn crackers
£27.00
Meal B For 3 Persons
Mini spring roll
Spare ribs
Beef in black bean chilli sauce
Kung po chicken
Young chow fried rice
Prawn crackers
£36.50
Meal C For 3 Persons
Crispy seaweed & prawn toast
Aromatic duck
Chicken in black bean chilli sauce
Beef in spring onions sauce
Prawn in Hong Kong style
Young chow fried rice
Prawn crackers
£51.00
Meal A1 (For 1 Person)
Sweet & sour chicken in batter (5 balls)
Chicken chop suey
Egg fried rice
£11.30
House Special Chow Mein
Mixed vegetable with beef, chicken, roast pork & king prawns, cooked in soya sauce on a bed of noodles
£6.80
Chicken Chow Mein (Large)
£5.60
Roast Pork Chow Mein (Large)
£5.60
King Prawn Chow Mein (Large)
£6.40
Roast Duck Chow Mein (Large)
£6.40
Special Chow Mein (Large)
£5.60
Singapore Chow Mein (Large)
Spicy
£5.70
Singapore Vermicelli (Large)
Spicy
£5.80
Mushroom Chow Mein (Large)
£5.20
Vegetable Chow Mein (Large)
£5.20
Plain Chow Mein (Regular)
£4.10
Crabmeat & Sweetcorn Soup
£3.70
Roast Duck with Mixed Vegetables
£6.40
Roast Duck & Bean Sprouts
£6.40
Special Roast Duck (Large)
Roast duck on a bed of mixed meat & king prawns, fried with vegetables & covered in gravy
£6.70
Roast Duck & Green Peppers in Black Bean Sauce
£6.50
Roast Duck in Lemon Sauce
£6.60
Roast Duck in Orange Sauce
£6.60
Szechuan King Prawns
Spicy
£6.60
Szechuan Roast Pork
Spicy
£6.10
Szechuan Special
Exquisite dish of beef, chicken, roast pork & king prawns cooked with Szechuan sauce
Spicy
£6.30
Pineapple Fritter in Syrup
£3.00
Roast Pork in Garlic & Chilli Sauce
Spicy
£5.90
Double Cooked Roast Pork
Spicy
£5.90
Roast Pork & Green Peppers in Black Bean Sauce
£5.90
Roast Pork & Bean Sprouts
£5.90
Roast Pork with Mixed Vegetables
£5.90
Roast Pork with Cashew Nuts
£6.00
Roast Pork in Oyster Sauce
£5.90
Roast Pork with Mange Tout
£5.90
Fried Mixed Vegetables
Vegetarian
£4.50
Fried Mixed Vegetable in Black Bean Sauce
Vegetarian
£4.60
Bamboo Shoots & Water Chestnuts
Vegetarian
£4.40
Stir Fried Bean Sprouts
Vegetarian
£4.10
Stir Fried Mushroom
Vegetarian
£4.40
Fried Mange Tout
Vegetarian
£4.70
Chicken with Chips & Mushrooms
£6.00
King Prawns Omelette & Chips
£6.60
Mushroom Omelette & Chips
£5.50
Fried Chicken in Lemon Sauce
£5.90
Roast Chicken Chinese Style
£5.90
Chicken with Cashew Nuts in Yellow Bean Sauce
£6.00
Chicken in Black Pepper Sauce
£5.90
Chicken with Mixed Vegetables
£5.90
Chicken in Garlic & Chilli Sauce
Spicy
£5.90
Double Cooked Chicken
Spicy
£5.90
Chicken with Bamboo Shoots & Water Chestnuts
£5.90
Chicken & Green Peppers in Black Bean Sauce
£5.90
Chicken in Garlic Sauce Peking Style
£5.90
Chicken with Spring Onions & Ginger
£5.90
Beef with Cashew Nuts in Yellow Bean Sauce
£6.00
Beef with Mixed Vegetables
£5.90
Beef in Garlic & Chilli Sauce
Spicy
£5.90
Beef with Bamboo Shoots & Water Chestnuts
£5.90
Beef & Green Peppers in Black Bean Sauce
£5.90
Beef in Black Pepper Sauce
£5.90
Beef with Spring Onions & Ginger
£5.90
King Prawns in Garlic & Chilli Sauce
Spicy
£6.60
Kung Po King Prawns
Spicy
£6.70
King Prawns with Cashew Nuts in Yellow Bean Sauce
£6.70
King Prawns with Bamboo Shoots & Water Chestnuts
£6.60
King Prawns & Green Peppers in Black Bean Sauce
£6.60
King Prawns with Mushrooms
£6.60
King Prawns with Spring Onions & Ginger
£6.60
King Prawns with Cashew Nuts
£6.70
King Prawns in Oyster Sauce
£6.60
King Prawns with Mange Tout
£6.60
King Prawns with Pineapple
£6.60
King Prawns with Mixed Vegetables
£6.60
King Prawns with Garlic Sauce Peking Style
£6.60
Mixed Vegetable Foo Young
£5.40
House Special Fried Rice
Mixed vegetable with beef, chicken, roast pork & king prawns, cooked in oyster sauce on a bed of fried rice
£6.80
Top Chef Special Fried Rice
Rice & various meats topped with roast pork & chicken covered in BBQ sauce
£5.90
Sweet & Sour Chicken in Batter (Balls)
£5.70
Sweet & Sour King Prawns in Batter
£6.60
Sweet & Sour King Prawns Hong Kong Style
£6.60
Sweet & Sour Pork Hong Kong Style
£5.70
Sweet & Sour Chicken Hong Kong Style
£5.70
Sweet & Sour Mixed Vegetables
£5.30
Sweet & Sour Chicken in Breadcrumbs
£6.10
Sweet & Sour King Prawn in Breadcrumbs
£6.70
Prawn in Salt & Chilli Pepper
£6.60
Deep Fried Chicken in Sweet & Chilli Sauce
£5.90
Deep Fried Chicken in Plum Sauce
£5.90
Deep Fried Squid in Salt & Chilli Pepper
£6.70
Chicken in Salt & Chilli Pepper
£5.60
TC Mixed Starter (For 2 Persons)
Seaweed, spring rolls, chicken satay on skewers, spare ribs & sesame prawn toast
£10.80
Mini Vegetable Spring Rolls (8)
£3.60
Special Cantonese Spring Rolls (2)
£2.60
Chicken Satay on Skewers (4)
£5.70
Barbecued Spare Ribs in BBQ Sauce
£6.50
Barbecued Spare Ribs in Capital Sauce
£6.50
Barbecued Spare Ribs in Lemon Sauce
£6.50
Crispy Aromatic Duck Quarter (6 Pancakes)
Served duck pancakes, cucumber, spring onions & hoi sin sauce
£9.30
Crispy Aromatic Duck Half (12 Pancakes)
Served duck pancakes, cucumber, spring onions & hoi sin sauce
£17.50
Crispy Aromatic Lamb
Served with 6 pancakes, cucumber, spring onions & hoi sin sauce
£9.30
Thai Green Curry A. Chicken
Spicy
£6.10
Thai Green Curry B. Beef
Spicy
£6.10
Thai Green Curry C. King Prawns
Spicy
£6.80
Thai Red Curry A. Chicken
Spicy
£6.10
Thai Red Curry B. Beef
Spicy
£6.10
Thai Red Curry C. King Prawns
Spicy
£6.80
Contact Us
Find Us
399 Highcliffe Corner Lymington Road, Highcliffe, BH235EL
We deliver to
BH23, BH25, SO41